Top Performers: TCU-Kansas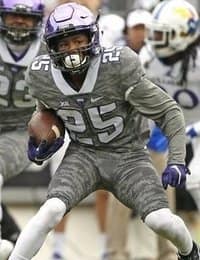 TCU had managed to stay competitive all season in the face of numerous injuries thanks to the play of quarterback Trevone Boykin. On Saturday, even that was taken away.
The Horned Frogs fought through even more injuries against the Kansas Jayhawks on Saturday to earn a 23-17 win and move to 9-1. Boykin left the game at the end of the first quarter with an ankle injury, leaving it up to some of the Frogs' other playmakers to get the win. Here's a look at some of the top performers from TCU's win over Kansas.
With Boykin leaving the game with a reported high ankle sprain and Josh Doctson limited by a wrist injury, Aaron Green had to help the TCU offense make up for the lost yardage. The Frogs leaned on him and Kyle Hicks after Boykin went down in the first half. The two backs combined for 40 of TCU's 58 rushing attempts.
"We have inexperienced people out there throwing the ball, taking control of the game," Green said. "I know I had a career-high in carries, and it's just what we had to do to win."
The senior had a slow start but gained momentum after halftime. He had 16 carries for 114 yards in the second half and finished with 177 yards on 30 attempts, both career highs.
TCU has had to play more true and redshirt freshman than it ever intended this season because of injuries. KaVontae Turpin, however, has been on the field since the season started because he is already one of the Frogs' best players, and he showed it Saturday.
Turpin returned a low, line drive punt 49 yards for a touchdown in the first quarter, reversing field and spinning away from defenders as he went from the right-side numbers back to the left. It was the first return touchdown of his career and the first for TCU since the Frogs played Kansas in 2014. Head coach Gary Patterson, however, thought the freshman made things a little harder than they needed to be.
"If he would have just stayed on the one side he was on, he had a touchdown," Patterson said. "But he wanted to make five other guys miss."
In a game where TCU played five different cornerbacks and four different safeties, Derrick Kindred steadied an otherwise inexperienced group. The senior leader in the TCU secondary led the team in total tackles with eight, including a couple of punishing hits.
"Honestly, in the first half we came out with no energy," he said. "Before the game, we need to just have a lot of enthusiasm and a lot of confidence. During halftime we just talked a lot about coming out there and playing our best time and everybody was getting energized about big plays."
Shaun Nixon scored the only offensive touchdown of the day for TCU, and the first of his career, on a 42-yard catch-and-run from Foster Sawyer. He led the team with seven catches for 78 yards.
A running back out of high school, Nixon has played a lot of snaps out of the slot this season with injuries to inside receivers Deante' Gray and Ty Slanina. He is fourth on the team in receiving yards (401) and has impressed teammates like Green.
"You can't really ask much more from Shaun," Green said. "Shaun is an amazing running back as well, but he's just asked to play receiver because of all the injuries.
Aaron Curry continued what has quietly been a great season in his first year as a starter. He had two sacks against the Jayhawks, both on third downs to stop drive in the first half.
Curry and the entire defensive line were able to get pressure on Kansas quarterback Ryan Willis. Fellow defensive lineman Terrell Lathan sealed the game with a sack on fourth down to give TCU the ball with less than two minutes remaining.
"It was his time," Lathan said of Curry. "I think he needed to have this type of game. He had a really good game. I think the defense overall had a really good game."