Frogs win opener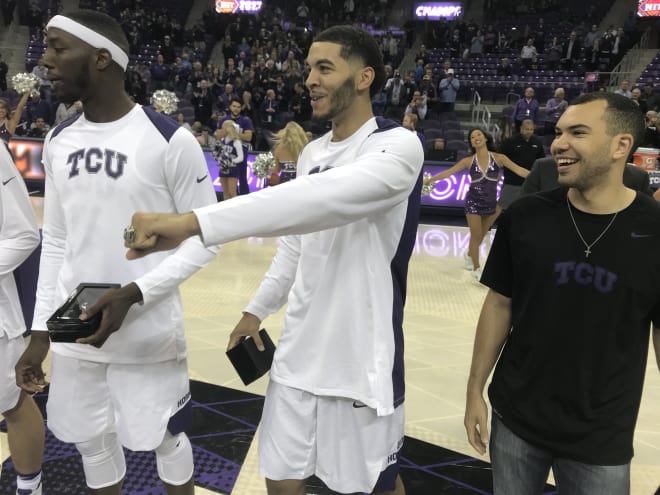 Year two of the Jamie Dixon era started right where year one left off, with a win.
TCU got all it could handle from ULM, but the Frogs were able to hang on and pull out the 83-73 victory.
The Warhawks did most of their damage from beyond the arc, hitting 12-of-27 shots, while TCU used a balanced approach with five players scoring in double digits. Offense wasn't the issue Dixon saw in his team, he wants it to improve on defense.
"Louisiana-Monroe shot the ball well, but I thought we could have done a better job defending and that this could have been a learning experience for us," Dixon said. "There are some things we need to work on. They were more physical and banged us around. That's more we can learn from."
Kenrich Williams recorded 19 double-doubles last season and started right where he left off in that department with 14 rebounds, 13 points and seven assists to go with three steals.
"I'm going to try and shoot better. I was terrible today," Williams said. "My teammates picked me up, but I've just got to do what I do."
Vladimir Brodziansky led all scorers with 16 and JD Miller, Desmond Bane and Kouat Noi each scored a dozen. Noi was at TCU last season, but couldn't play due to NCAA issues with his transfer from Australia. He didn't disappoint in his debut.
"I just wanted to come out and play hard off the bench," Noi said. "This game was really competitive. I know we have a great, competitive team that I see in practice everyday."
Dixon was impressed with his Australian import.
"He played well. I think he forced a couple shots, but we can live with that," Dixon said. "He's got to be a better defender. He got the rebounds, but right now we see JD MIller as a better defender."
Before the game, TCU received its rings from winning last year's NIT. Dixon doesn't think that affected his team's play as a distraction out the gate.
"That was well-deserved, but we told them we need to move on," Dixon said. "I thought our practices weren't as good the last two days and we weren't as on point. The ceremony was necessary, but I don't think it was a distraction."
Williams does like his new jewelry though.
"I do like it. It's real nice," Williams said.
TCU (1-0) returns to the court at 8 p.m. Monday against Tennessee Tech.