Frogs have no issue with Omaha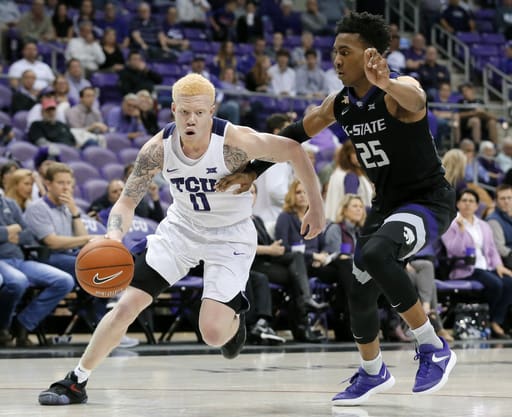 After a tough stretch of three games in six days, TCU looked rejuvenated by the extra four days off before facing Nebraska-Omaha.
The Frogs started hot and led by 21 10 minutes into the game and never looked back as they cruised to a 99-66 victory against the Mavericks.
"I think Omaha is a team that will win some games in their conference and played tough against Louisville, but they've been on the road for a while," TCU coach Jamie Dixon said. "We got three good days of practice before this and I thought the passing was good. We still need to cut down on the turnovers and try and stay under 10."
While the rest did most of the players good, TCU played without starting point guard Alex Robinson due to a bone bruise in his foot. Robinson's status for this weekend's tournament in Florida is unknown.
"I don't think we realized how hurt he was. His foot is a little bit swollen. We'll see how it goes after the day off tomorrow and see how he feels Wednesday," Dixon said. "Based on how severely his foot was swollen Wednesday after the last game, we anticipate him being better and it's going in the right direction."
In Robinson's absence, sophomore Jaylen Fisher got the start and finished with nine points and nine assists.
"I knew a couple days ago," Fisher said about his start. "The chemistry is always there for us though."
It was an important moment for Fisher, who suffered a knee injury during the NIT last year and it wasn't sure just how soon he'd be ready to return to the lineup.
"It's a blessing. I honestly didn't think I'd be here this fast," Fisher said. "The knee feels good though."
Not only did Fisher get the start, other players got to play bigger roles, including New Mexico Junior College transfer Shawn Olden, who scored his first nine points of his TCU career in 24 minutes.
"I just tried to step into a role and be aggressive and help the team be as good as we are," Olden said. "It felt great to score though. Coaches told me I would get my time."
Vladimir Brodziansky led TCU with 19 points and six rebounds. Desmond Bane had 14 points, two steals and three rebounds. Kenrich Williams had 11 points, six rebounds, six assists and two steals as he continues to fill the stat sheet.
TCU (4-0) will take part in the Emerald Coast Classic this weekend in Niceville, Fla. TCU will play New Mexico (2-1) at 6 p.m. Friday. The winner of that game will play Saturday against the winner of St. Bonaventure (2-1) and Maryland (5-0).